Ananda in the Himalayas | India
Ananda is an award-winning luxury destination spa resort located at a palace estate surrounded by alluring Sal forests. It is situated at the Himalayan foothills in Tehri (Northern India) near the spiritual town of Rishikesh and the Ganges river valley.
Ananda is an internationally recognised oasis that integrates traditional Ayurveda, Yoga and Vedanta with international wellness experiences, fitness and healthy organic cuisine to restore balance and harmonize energy.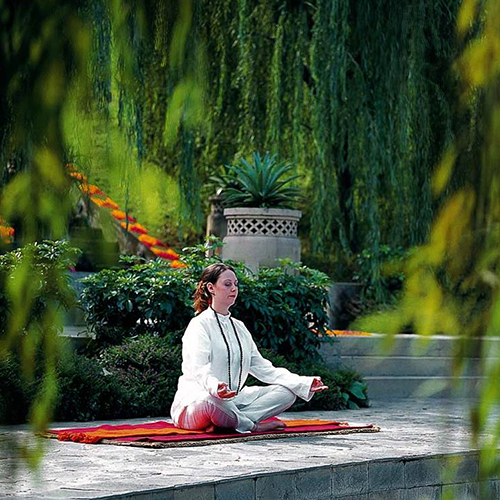 Aro Ha | New Zealand
Aro Ha is a multi-award-winning retreat located in New Zealand's exquisite Southern Alps. This is where wellness traditions meet luxury, offering life-altering experiences and condensing optimal living practices into signature wellness adventures.
Aro Ha offers physically stimulating programs that sculpt the body & mind with sub alpine hiking, vinyasa yoga, and dynamic movement offering you the right elixir.
Chiva Som | Thailand
Spread across seven acres of the heavenly beachfront, Chiva-Som is Asia's renowned and pioneering wellness destination with several accolades to its name.
This luxury health resort's programme combines world-class standards with traditional Thai values and beliefs to deliver personalised wellness programs in an efficacious method to revitalise the mind, body and spirit.
Golden Door | USA
Nestled within a serene valley around 600 acres of nature, The Golden Door is an oasis for lovers of good health & wellness practices. Located a few miles from San Diego and to the south of Los Angeles, the retreat promises to recharge your mind, body and soul through a curated and personalised fitness program aimed to restore health and fitness levels, rejuvenate mind and spirit, and helps to regain inner balance and strength.
Additionally, the property also offers more than 30 miles of hiking and walking trails, mountains to climb, vistas to discover, and a bamboo forest that gives voice to the wind, guests are surrounded by breathtaking beauty that nurtures the soul.
Kamalaya | Thailand
Located in Koh Samui in Thailand that was always revered as a sanctuary for spiritual retreat, that is exactly what you can expect at Kamalaya. This exceptional wellness sanctuary and holistic spa retreat offers health solutions for anxiety, stress and numerous other challenges posed by the ever-changing world around us.

The property is an ideal place to reconnect with your inner self and rejuvenate your mind, body and spirit surrounded by nature. Their unique approach to wellness combines ancient Eastern healing traditions with Western medical research as a way to detox, heal and rejuvenate as you experience sacred solitude and rediscover yourself to achieve life-changing results.
Sha | Spain
Located in the Alicante province of Spain, right on the Mediterranean and within the Sierra Helada Natural Park, SHA Wellness Clinic is in one of Europe's most favored locations receiving 330 days of sunshine a year.
A pioneer in combining medical innovation with holistic healing, this award-winning luxury resort is renowned for offering macrobiotic diet principles as a way to physical, mental and spiritual harmony. With a specialisation in anti-aging, natural health and non-invasive aesthetic medicine, their wellness treatments and programmes are dedicated to improving overall health and quality of life.
Vana | India
Located in the foothills of the Himalayas, amidst the serenity of Dehradun in Uttarakhand, Vana is a sophisticated wellness retreat that offers therapies that focus on maintaining the equilibrium through a journey of learning about the inner-self.
Vana (meaning forest in Sanskrit), emphasises on "taking refuge in a forest" with an aim to restore physical, mental, emotional and spiritual wellbeing.
Villa Stephanie Spa & Wellbeing | Germany
Located in the heart of the scenic and popular spa towns Baden-Baden in Germany, near the French border, Villa Stephanie Spa & Wellbeing is an oasis of beauty and serenity.
It is often regarded as one of the best medical spas in Europe as it offers a holistic approach for rejuvenation consisting of medical competence, healthy nutrition, fitness and physiotherapy.