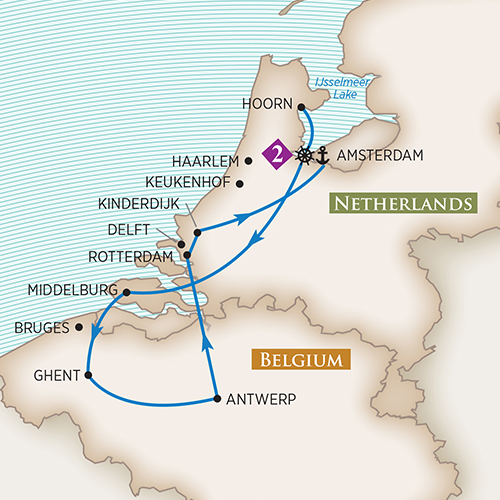 AMA Waterways
Explore Europe through the Seine, Danube and other iconic rivers that pass through the magnificent European cities and small charming provinces or sail along the Nile and the South East Asian waters with award-winning European river cruise operator AmaWaterways.
Offering luxury, all-inclusive river cruise vacations for travelers wanting a different type of cruise experience, AmaWaterways boasts more than 22 itineraries plus immersive wine and art cruises.
Anakonda Amazon Cruises
The luxurious Anakonda Cruises offer the topmost luxury that can be offered in the wilderness with private lounges, well-built suites, floor-to-ceiling windows and more.
Each cruise takes up to 40 passengers deep into the upper basins of the Napo and Aguarico Rivers, around the mega-diverse Pañacocha biological corridor and Yasuni National Park biosphere reserve – Ecuador's largest protected animal reserve – for unprecedented wildlife watching opportunities and authentic cultural encounters.
Aqua Expeditions
Specially curated experiences, 1:1 guest to guide ratio, spacious private and entertaining spaces and tailormade excursions – these are the defining factors of the boutique river cruising expeditions offered by Aqua Expeditions.
As they strongly believe in access being the new measure of luxury, they excel in bringing families and friends on travels to the unspoiled sanctuaries and remote destinations with minimised human interaction to destinations like Amazon River of Peru, the Mekong River in Southeast Asia, the Galapagos Islands of Ecuador, and the pristine coastal waters of Eastern Indonesia.
Avalon Waterways
Cruise through the rivers in Europe, Asia, Africa and South America with Avalon Waterways and forget balcony rooms. With the Avalon Panorama Suites, your beds actually face the view with the widest-opening, wall-to-wall, floor-to-ceiling panoramic windows giving you the utmost luxurious feel in river cruising.
Think of it as a view with a room! Also, since every traveler is unique, Avalon offers a wide variety of on-cruise and off-cruise experiences to you – whether you like to paddle a kayak or paint a canvas, each day on an Avalon river cruise is an adventure of the mind, heart, or heart rate if you prefer.
Crystal Cruises
All-suite, all butler-serviced ships by Crystal Cruises bring in an air of elegance and comfort that is ideal for experiencing Europe through its beautiful rivers.
Add to that superlative Michelin-inspired cuisine, genuinely hospitable service, immersive itineraries exploring the Danube, Rhine, Main and Moselle rivers and a diverse range of off-shore excursions and extended stays in charming European cities.
Uniworld
Setting elevated standards in Luxury River Cruising in Europe as well as in Egypt and Far East, Uniworld offers a six-star experience for its guests with its ambiance, service standards, culinary fare and all-Inclusive experiences.
The boutique river cruises allow you to travel from one exciting destination to the next aboard a stylish floating hotel with inviting lounges, cozy libraries, panoramic restaurants, sumptuous cuisine, exquisite antiques and original art and luxurious riverview staterooms and suites.
Sit back and enjoy the ever-changing scenery as you sail to your next destination.